Add to favorites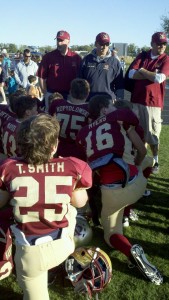 Coaching youth football or any other youth sport is hard. It takes a great deal of your time and effort to coach a team.
I have found through my last nine years of involvement with youth football, basketball, and soccer, running a team, can be approached like running a business. After running various businesses around the world and planning and setting-up new ones for my clients, a well executed plan is needed before diving into any business… or youth football team.
The first step is a mission statement. A mission statement is a few sentences that summarizes what your business is trying to accomplish. For example:
"Company XYZ, will become the North American low cost producer in manufacturing widgets based on our proprietary manufacturing process, which will bring offshore manufacturing of these widgets back to the United States"
Pretty simple huh? Maybe sounds kind of simple and obvious, but it lays as foundation of what the business is trying to accomplish. Notice it doesn't mention profit levels and making millions of dollars as the mission goal, rather what the overall foundation of what the business exists for.
This same principal can apply to your football team. What are the reasons your there? Why are you doing this? What's your goal? Again this may sound like a fruitless exercise, but is is the hardest thing to put down to paper and form a basis for everything else you do on the field. An example statement may be:
" To provide a positive experience for players, parents and coaches, in an environment which teaches fundamentals of the game which the player can build on over the years."
Sounds corny? Maybe, but it's what I used a few years back. We had a brand new team and I knew we wouldn't go undefeated; win the championship; or even break 500 with our record. If i would have made those goals I would have been sorely disappointed. Instead I focused on giving a good experience for all involved and teaching the kids real fundamentals they can uses in the subsequent seasons. By the way we went 5-4 that season and the kids still come up to me years later and call me Coach. I'd say it was a very successful season.
What is your mission statement for your team?
Look for Planning your Football Team Like a Business – Part 2 coming up soon.