Add to favorites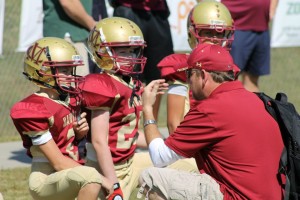 Part and parcel to the Mission Statement we talked about in Part 1, we now need to create the objectives for our football team. What are your objectives?
• Build a foundation year so you can compete next year and the year after that?
• Draft a quick left guard?
• Draft a tall TE with good hands?
• Draft a long snapper?
• Find an assistant coach who understands blocking schemes?
Seems pretty simple right? Simple, but important.
Without objectives to help guide you through the formation of your team and staff, you will not be able to move efficiently through your season.
While coming up with your objectives, keep them specific and not vague. As mentioned in Part 1 about the Mission Statement, don't make your objective "Winning the Championship"; while that's a great goal, your objectives should be the specific puzzle pieces and missing puzzle pieces to get you to your goal.
Now that we have the Mission Statement and Objectives for your "business plan" we have completed the Executive Summary of your plan. Next comes the really hard part, Management Summary. Stay tuned for Part 3.